Het Fenomeen van de Pilaar van Licht gebeurt weer.
Houd je ogen open, mensen.
door Corey Goode 18 aug 2015
2 pagina's
Houdt je ogen open, mensen. Het fenomeen van de Pilaar van Licht gebeurt weer.
Het is niets om bang voor de zijn. Dit schijnt te horen bij de verandering van de resonantie van de Aarde en om die te helpen naar een hogere dichtheid over te gaan op een minder gewelddadige manier. (EQ's/Physical Pole Reversals etc...).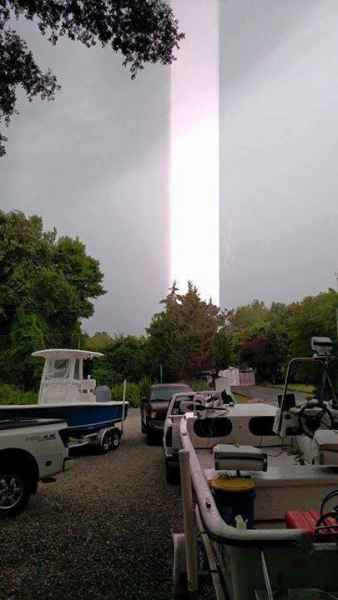 Net als sommige orbs camera kunstobjecten zijn, zo zijn dat ook sommige lichtpilaren weet ik zeker. Dit legt niet uit hoe mensen die lichtpilaren zien met hun blote oog en om daarna video en foto's van hen nemen. De PTB gaf eerst artikelen uit zeggend dat ze veroorzaakt werden door ijskristallen in de atmosfeer toen mensen deze rapporteerden dat ze hen zagen met het blote oog en sommige van die pilaren werden vanuit verschillende richtingen door diverse mensen gefotografeerd en die allen het zelfde fenomeen vaak zagen in de heldere blauwe hemel… Die video's en beelden werden zo snel mogelijk nadat ze gepost werden weggehaald. En de enigen die achterbleven zijn die met wolken in de achtergrond om de ijskristallen te steunen die uitgebracht werden toen dit de laatste keer gebeurde. Er zijn best veel beelden van camera kunstobjecten van dit soort en van de orbs die mensen niet met het blote oog kunnen zien en alleen op het plaatje zien als de foto later wordt her-bekeken. Het nemen van een foto van iets dat je ziet voordat de hand een camerakunstobject weghaalt. Maar dat laat zien dat elke foto/video bewijs dat iemand naar voren brengt snel kan worden ontdekt door TPTB of door sceptici. Niets meer dan een persoonlijke ervaring kan voor de meeste mensen voldoende zijn. Er zal een wereld gebeurtenis zijn waar elk oog zal zien en elk oor zal horen (dit moet niet Bijbels klinken)
De schaduw oorlogen tussen de cabal zijn toegenomen maar ook de strijd tussen de Aarde Bondgenoten groepen die geïnfiltreerd zijn door de cabal en die nu vechten over het financiële stelsel. Er is veel meer gaande in Azië dan er werd gerapporteerd en er is veel meer verwoesting bij bepaalde gebeurtenissen dan er verslag van werd gedaan. Er is een zwaar gebruik van Energetisch Weer en AardBeving (Earth Quake of EQ) technologieën/wapens (die op de Grond en in de Ruimte gebaseerd zijn) maar ook het gebruik van de heel weinig op ruimte gebaseerde wapens die deze groepen beheersen (Low Earth Orbit weapens uit de SDI/Star Wars Era, =voor de lage orbit wapens uit de SDI/Sterren Oorlogen Tijd)
Merk op dat als deze groepen proberen om het goed te maken bij hun bedreiging om oorlog en strijd naar de oppervlakte te brengen van de planeet, maken de Sphere Alliances een vredige tegenactie om te bewegen wat de harmonieën van onze planeet helpen te veranderen.
De Draco Royals en het Comité van 200 commités (Chairmen) proberen hun best te doen om hun bedreigingen goed te maken nadat hun deal van clementie ontkend werd.
Deze groepen worden nu zo reactionair, ze realiseren zich niet dat ze hun eigen blootlegging aan het verhaasten zijn en elke actie beëindigen die ze ondernemen.
Blijf afgestemd voor meer informatie, ik heb morgenochtend een vergadering (vroeg in de morgen, zoals gewoonlijk) waar ik meer gedetailleerde informatie krijg over recente gebeurtenissen.

TY
Corey/GoodETxSG
Vertaling: Winny