Feacturing Aileen Garoutte
This blog (UFOexperiences) has been created to inform the public about the UFO subject. It also contains peripheral phenomena. Created by Aileen Garoutte, previously Director of The UFO Contact Center International.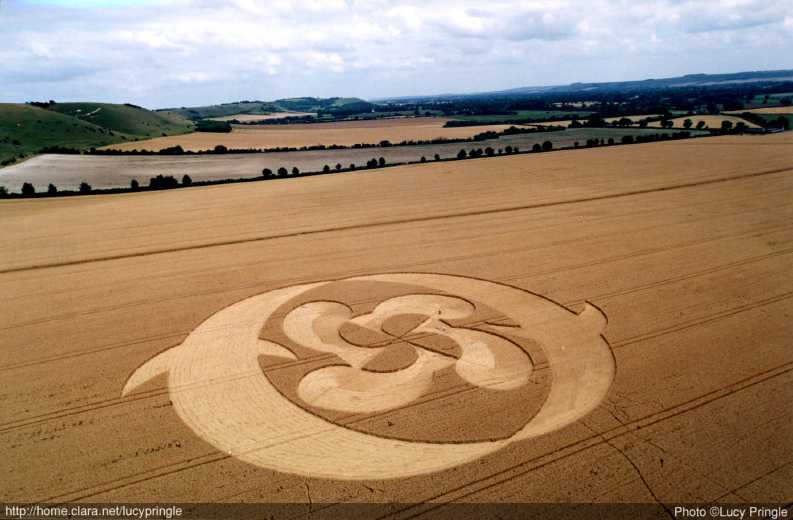 CASE HISTORY THE 'DOLPHIN' CROP FORMATION, GOLDEN BALL HILL, nr ALTON BARNES, WILTSHIRE25th JULY 2004 by Andrew J. Buckley

The 2004 crop circle season was rife with disinformation, rumours and inaccuracies circulated via internet websites and miscellaneous journals and publications. My suspicions were aroused when one particular website branded the 'dolphin' crop formation a hoax before even bothering to check the facts and interview other witnesses, such as myself, who had taken the time and trouble to thoroughly examine this formation and obtain good photographic and video evidence. For example, two self proclaimed 'researchers' declared the formation to be a hoax purely on the basis of a brief binocular observation made from a road a quarter a mile away [in front of several witnesses], without actually having conducting a ground survey. So, here is my own account which I hope will dispel some of the myths surrounding this formation.


On the evening of Sunday, 25th July 2004, I decided to conduct an all night skywatch from the summit of Golden Ball Hill, near Alton Barnes, Wiltshire. I arrived at the hill at approximately 21.30 hrs, noting several vehicles belonging to campers / skywatchers situated in the Knap Hill car park below. I quickly ascertained that there were no unusual markings or crop formations in the fields directly below to the south. I unpacked my binoculars and night-vision scope [ a Cobra Ranger 2202 with a 600 metre viewing range], leaving my Panasonic video camera in my rucksack to protect against dew.

The following few hours were rather uneventful, apart from the occasional commercial and military aircraft on a night sortie. Despite the darkness, there was reasonable low-light ambient visibility and through the night-scope I could clearly see the surface of the crop in the fields below. There was no evidence of any unusual torches / lights / sounds or the presence of any suspicious individuals in the immediate vicinity. At approximately 02.25 hrs, the atmosphere changed very dramatically when I became aware of a pair of flashing green and red lights approaching from the south-west at extremely low level. Through the night-scope I quickly confirmed that these lights were attached to what appeared to be two Apache Longbow army helicopters. As they drew level with my position, one of the aircraft abruptly veered off to a point almost directly below me, descending to hover over the surface of the crop at an altitude of 20 - 30 feet. The other helicopter positioned itself to the rear of two large copses at the foot of Golden Ball Hill.

The sound from these helicopters was deafening and I could feel updrafts of turbulent air from their rotor blades. Suddenly, the pilots extinguished all navigation and cabin lights and assumed a 'stealth mode', where the engine noise is cut. I thought of switching on my video camera; however this seemed rather futile because of its limited low-light capability and the fact that I was obtaining a greater result through the night-scope.

My attention was drawn to the helicopter over the field, partly due to the somewhat strange manoeuvres it was making. Whilst maintaining a fixed altitude of about 20 - 30 feet, it began very slowly to turn around in a clockwise motion for about 2 - 3 minutes, then become stationary for 30 seconds, before repeating the manoeuvre. Simultaneously, I became aware of a very faint blue - white 'glow', rather similar to phosphorescence, which appeared to emanate from underneath the fuselage of the helicopter.

Initially, I took this to be an optical illusion, however, through the night-scope, it was possible to indeed confirm the presence of this 'glow', although of course its colour was distorted through the scope. I was also concerned that the vastly superior avionics aboard the helicopters may have already detected me, as I was situated in a rather exposed position on the side of the hill, albeit attempting to hide behind a small bush!

Resuming my observation of the helicopter hovering over the field, I was astonished to see what appeared to be a large circular shape, which had literally appeared within a matter of seconds beneath the aircraft, where I had noticed the unusual 'glow', which by now had faded. This 'marking' was quite nebulous and initially difficult to focus on. Also, it was difficult to obtain a clear view because the feature was partially obscured by the helicopter. Fortunately, after a few minutes, both aircraft flew off to the south, in the direction of the military ranges over Salisbury Plain and were lost to sight.

I now had a good, unobscured view, and through the night-scope I could clearly see the 'marking' in greater detail.This took the form of a large, circular depression in the crop which, of course, was later to be described as the 'dolphin' crop formation. As far as I could see, the formation was in a state of completeness, and had appeared over a period of approximately 3 - 5 minutes, the time now being 02.40 hrs.

Still recovering from the shock and excitement of witnessing such an unusual event, I made the point of checking whether there were any other possible individuals / witnesses in the vicinity, but as far as I could see, I was still alone on the hillside. I continued to skywatch until dawn, when I was able to confirm the presence of the formation which was situated about 100 yards inside the field between Golden Ball and Knap Hill. I was immediately able to enter and record the formation and had an interesting conversation with the estate manager / farmer regarding the crop circle phenomenon.

The formation was extremely impressive at ground level and had many outstanding features including delicately woven standing centres and a beautiful ground lay. There was very little evidence of damage to the crop stems and seed heads or use of stomping boards or other mechanical equipment being used.It seems likely from my observations that the crop formation could have been created by one or more of the helicopters, given their close proximity to the scene of events, the phosphorescent blue white 'glow' derivative of some exotic energy device deployed by the pilots.

Alternatively, the helicopters, whether military or otherwise, could have been vectored to this location because they had prior knowledge of the imminent appearance ot the formation in order to record its creation for reasons we do not yet fully understand. What can definitely be ruled out is the 'official' explanation that the formation was constructed by a team of hoaxers. And it also casts serious doubt on the credibilty of other so-called researchers who claim they saw 'hoaxers' leaving the field in question on the morning of Monday, 26th July 2004, and those who chose to subsequently accept these stories as 'fact'.

Throughout the night I had not noticed any suspicious individuals either in the fields below or in the vicinity of the hills around me, despite my use of a very powerful night-vision scope. And given that several people were camping and skywatching from the Knap Hill car park it wouldn't have been surprising if some of these individuals were inadvertantly observed walking in the area.

The 'dolphin' crop formation, whatever its meaning and purpose, together with the controversy surrounding it, can provide a litmus test for future research, because incidents of a similar nature will no doubt occur again, as will the inevitable chorus of disapproval, disinformation and deceit. The next time, be prepared and be vigilant! You owe it to the phenomenon and the truth.
I would be very interested to contact other researchers who may have also witnessed the above event or have any further information regarding the 'dolphin' crop formation, especially details of ground surveys, aerial photographs and more importantly, results of any crop sampling.

I can be contacted at:
andrewjb68 (at) hotmail.com.
Copyright 2006.

A J Buckley